ALTHOUGH Ms Suzilawati Mohd Rais' left arm and leg were paralyzed due to a stroke about three years ago, it did not dampen her spirit to participate in various courses to stimulate her mind.
For example, during the COVID-19 circuit breaker period in 2020, Ms. Suzilawati, took an online course on nutrition specifically conducted for stroke or stroke patients.
"I joined it at the suggestion of a doctor friend who advised me to have knowledge about the types of foods that are good for my health," said Ms. Suzilawati, 49 years old.
She also suffers from diabetes as well as high blood pressure and cholesterol.
Most recently, in August, she participated in a course entitled 'Practicing Design Thinking for Team Building Activities' under the Leadership and Human Resource Management (LPM) program run by SkillsFuture Singapore.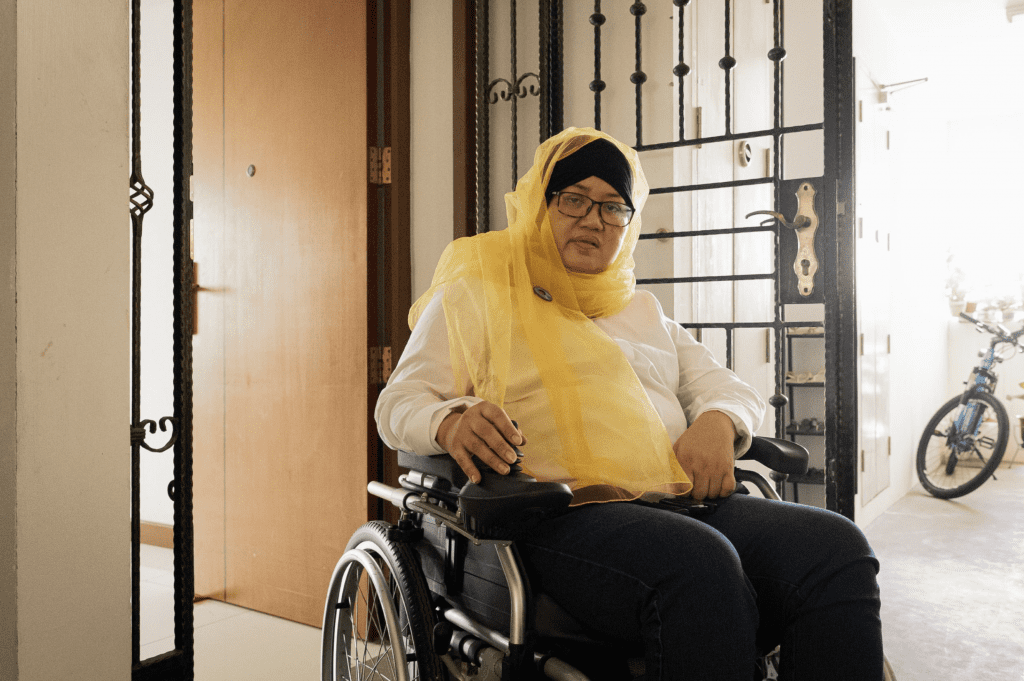 The course, which Ms. Suzilawati attended physically at the SSTC Institute, equips participants with Training and Adult Education (TAE) competencies that enable her to be a program facilitator.
"Actually, I really hope to improve my health and return to living independently one day.
"I once asked the doctor for a letter to confirm that I could work but the doctor said I was still not strong and still needed time to recover," said Ms Suzilawati, who has not worked for three years.
However, Ms. Suzilawati – who is divorced and has a 22 -year -old daughter, is very grateful because she is now assisted by Zakat from the Islamic Religious Council of Singapore (Muis).
The assistance worth $150 a month is in the form of supplementary assistance that she has received since 2019 to ease the burden of her daily expenses as well as her medical needs.
Her daughter now works as a fitness instructer. Her eldest son, however, passed away in 2016.
"I applied for Zakat assistance at the Al-Khair Mosque and at the suggestion of the Fei Yue Family Service Center (FSC)," said Ms. Suzilawati.
The FSC helped her in terms of emotional well -being.
Commenting on her feelings when she applied for zakat assistance from Muis, Ms. Suzilawati said:
"Actually, I feel ashamed, embarrassed because I have to ask for help. But, in 2019, I'm still weak and I think, I can't work."
However, she added that she did not want to rely on Zakat assistance from Muis for long term.
"I'm the kind of person who likes to be independent. So, I hope this Zakat assistance is a temporary assistance for me," said Ms. Suzilawati.
Prior to her illness, she had worked at a law firm since the age of 19 – from being a receptionist, clerk and later promoted to a paralegal.
"I want to continue my studies before I have two children but school fees were expensive.
"So, I learned about family law, company law and so on while I was working," said Ms. Suzilawati.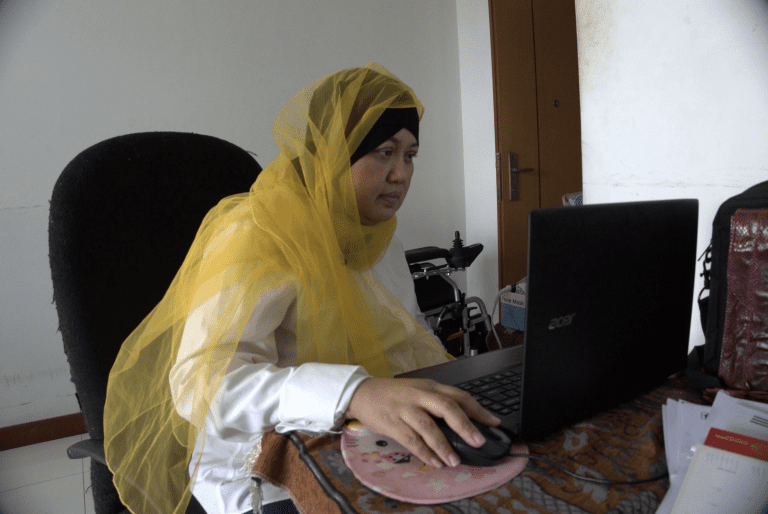 In her role as a paralegal, Ms. Suzilawati helps lawyers research various cases and learn ways to "think five steps forward."
However, she switched jobs in early 2018 as a marketing officer at a Japanese early childhood education center.
In October that year, she had a stroke.
"I did not know I had a stroke. I was at home when my body felt weak on the left side. I remember I had a fever. Then, I fell on the left side.
"Fortunately, my cousin came home," said Ms. Suzilawati, recalling the moments when she fell ill.
She added that while in the hospital, the doctor confirmed that there was a blood clot in her left brain and what she experienced was a stroke.
"As I lay in the hospital bed, I felt lost.
"My brain is confused, thinking about home and how to tell my mother and siblings.
"My mouth is lop-sided and I feel angry when people do not understand what I want to convey," said Ms. Suzilawati.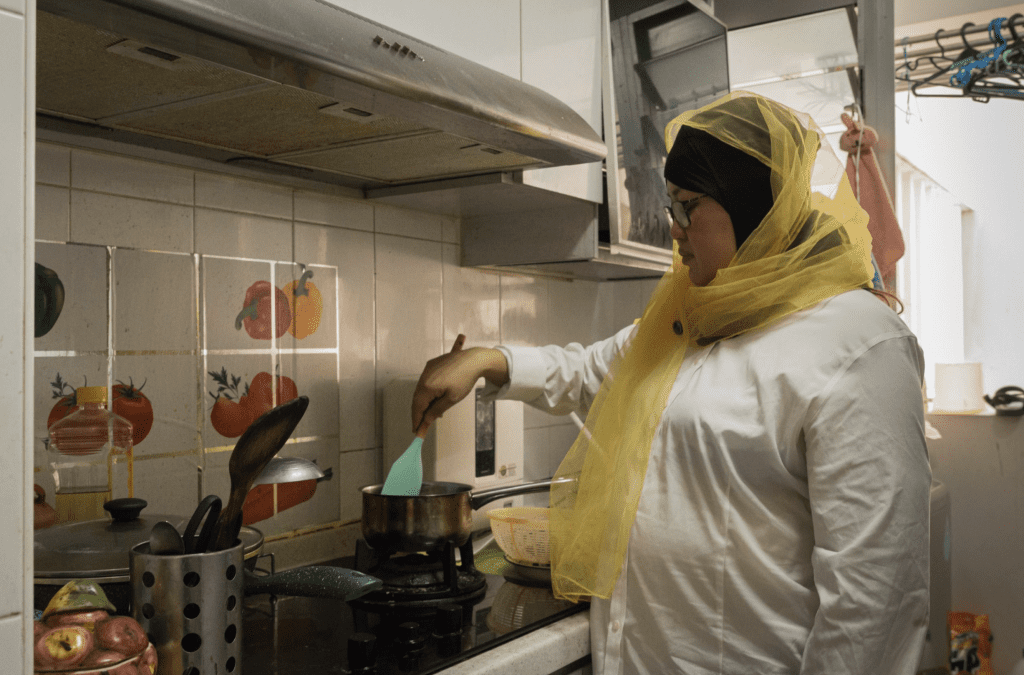 She then underwent rehabilitation at a rehabilitation center until January 2019.
While doing therapy and rehabilitation, Ms. Suzilawati recalled the principles of living in the book, 7 Habits of Highly Effective People, written by Stephen R. Covey, and practiced those principles of living in her recovery process.
"After I left the rehabilitation center, I stayed with my mother for two months but then told my daughter I wanted to go home.
"So, I persevered and tried to be independent at home. From not being able to move, I can now walk slowly and do my housework, "said Ms. Suzilawati.
According to her, she will now try to walk in the area around her flat using a cane if she need to go to the market nearby.
Ms. Suzilawati now lives in a three -bedroom flat of hers in the Choa Chu Kang area.
In her poor health, Ms. Suzilawati, also believes she can contribute to society.
She was once involved in a project with a local charity, SPD, where she worked with people with cerebral palsy.
She has also been a member of the Residents Committee (RC) at Keat Hong Zone 10 since 2015, where she previously held the position of secretary.
Because of that, she said her friends from RC gave him a lot of support and motivation to think positively despite her life challenges.
"I am grateful for the support of friends, and with the Zakat assistance I received, I want thank all Zakat contributors," said Ms. Suzilawati.
Ms. Suzilawati falls in one of the categories of 8 asnaf who have rights over Zakat – asnaf miskin.
Asnaf Miskin refers to one who has insufficient means of livelihood to meet his or her basic needs and the Zakat disbursement includes monthly financial assistance, special assistance during Ramadan, and supportive programme grants.
For more information on Zakat
Need assistance from Zakat?
Visit any of the Social Development Mosques listed here.
Due for your Zakat payment?
Click the button below to make payment online.