"I told myself that I was going to be independent and didn't want to depend on anyone else."
That is the strong commitment that Mr. Zahid Yassin, 40, has placed upon himself since he was still in school.
Born with the condition of spina bifidia, which is a condition that affects the spine and legs. This means his mobility is limited and requires a wheelchair to move around the house.
However, Mr Zahid did not let his condition define who he is.
Furthermore, Mr Zahid, who is the third child of six siblings has the full support of every member of his family.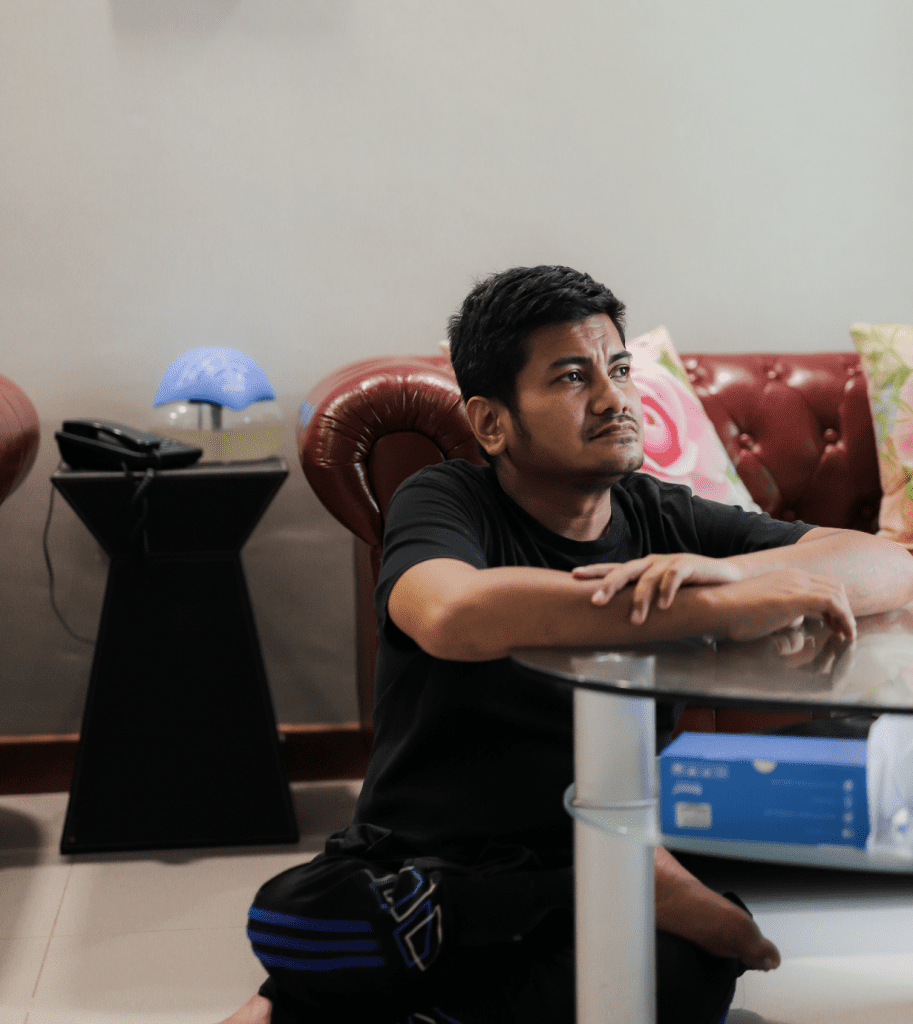 "They helped me first. They sent me to school by car and then when my mother and father went out, they would take care of me at home," shared Mr Zahid while expressing his gratitude to have such supportive family members.
Thus, as soon as he graduated from the Institute of Technical Education (ITE), Mr Zahid was determined to continue to get a job so that he could support himself.
He was employed as an administrative and customer service staff for which he worked for about 14 years.
He still remembers how happy he was when he first got his salary and he was able to give part of his first salary to his parents and pay some monthly bills.
"I don't know how it crossed my mind to continue working because for me in this situation, I can just sit and say I can't work and just hope for help – but I am not that kind of person. I prefer to make an effort of my own, strive to generate income," he said.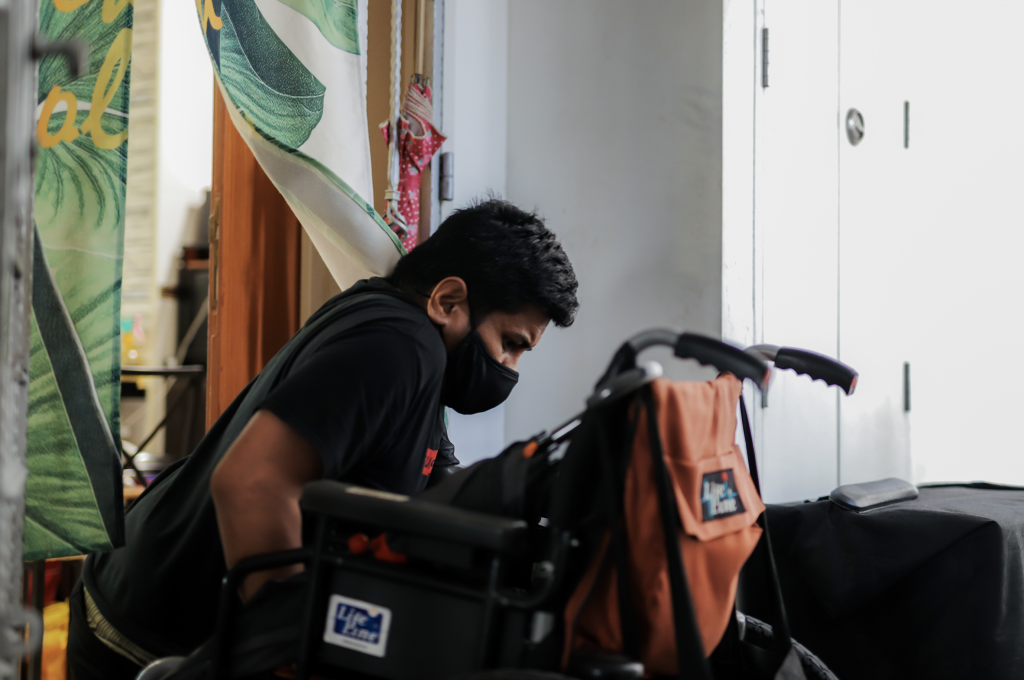 'AYEED THE COURIER'
Due to his determination, Mr Zahid then started the 'Ayeed The Courier' service about six years ago.
Equipped with a clear passion and determination, he started this small business to become an independent courier.
Despite being in a wheelchair, he made sure that he was able to do at least three deliveries per day across the island.
"In the first year, I used a manual wheelchair. That means I had to push the wheelchair myself by hand and make the farthest delivery from Jurong to Tampines!" he joked.
But that's not the only challenge he has to go through …
The health of Mr Zahid's parents is getting worse.
His father, Mr Yassin Ismail, 67, suffers from kidney failure while his mother, Cik Zarimah Harun, 64, suffers from several diseases such as diabetes and high blood pressure.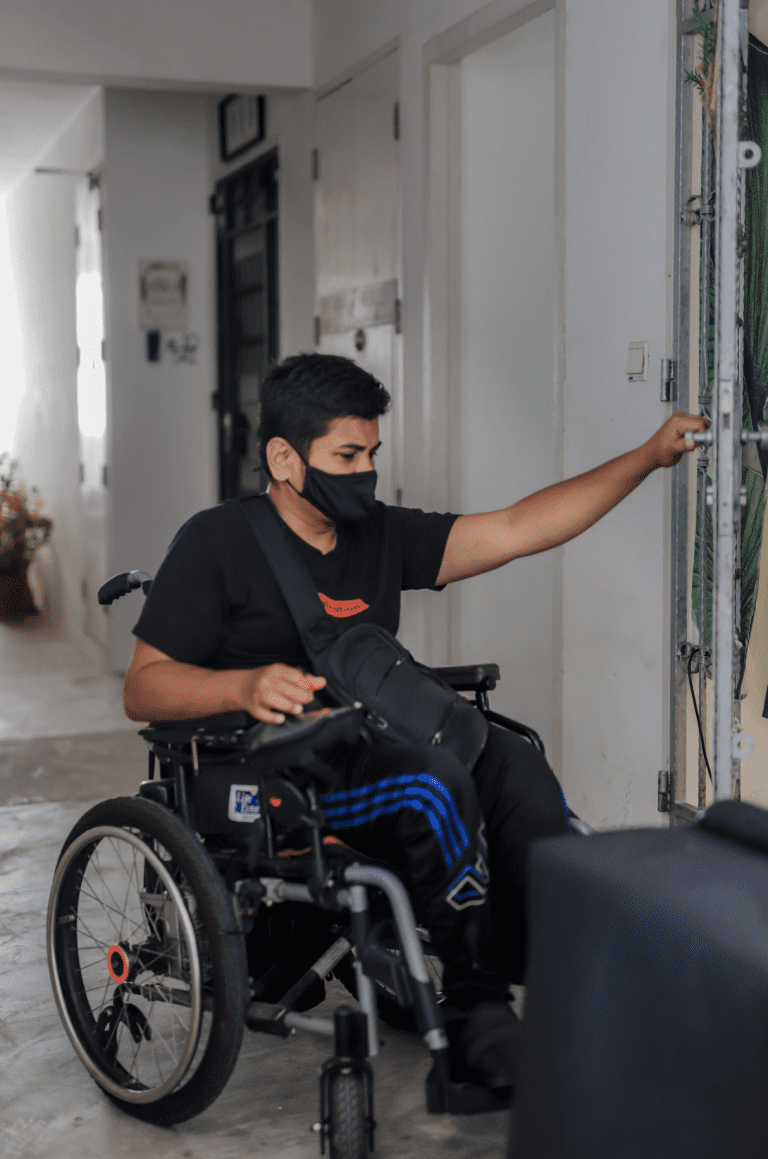 It was here that Mr Zahid proved the strength that he had and did not give up continuing his work to generate income to help his parents.
Fortunately, he received help from charity bodies in addition to being a Zakat recipient.
"I really don't like shopping. So, my salary and savings are only enough to cover my daily expenses and monthly bill payments.
"But with the help of zakat, it is a bonus. If there is any incident or emergency, I also have a slight advantage to use the monetary assistance as it is for things that me or my parents really need," he said while showing us the blood pressure monitoring device which he had just bought for his mother with the monetary assistance he received.
Apart from that, Mr Zahid also shared that if there was an emergency, he had to defer the payment of the water bill for one to two months.
With the help of Zakat which he has received for more than a year, he no longer has to worry about unpaid bills.
He said, "Now Alhamdulillah every month I can pay in full. I no longer have to pay a little first or borrow from people."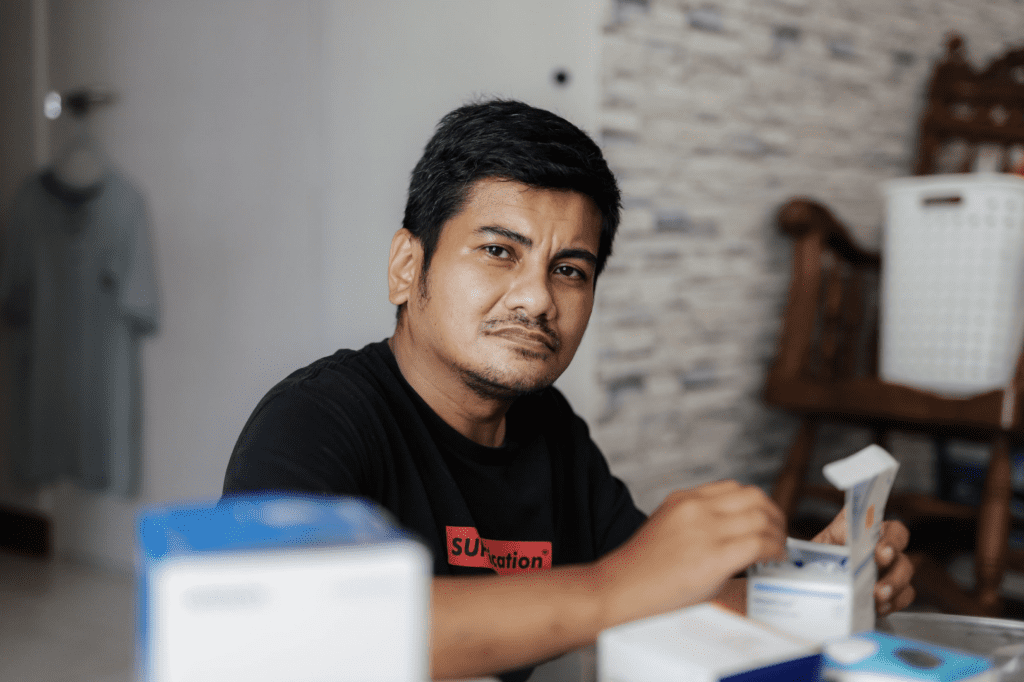 THE BIGGEST SUCCESS
Thanks to the assistance received as well as Mr. Zahid's prudence in spending, he made himself achieve two personal successes.
He not only managed to buy his own house with his parents, Mr Zahid was also able to perform Umrah about two years ago.
"In terms of spiritual, I can also go on umrah and the in terms of material – I can afford to buy a house. These are my two successes so far. When I was little, I was always asked myself if I could achieve it," said Mr Zahid with gratitude.
Therefore, he hopes that people with disabilities will not give up and continue to work as hard as possible.
Meanwhile, Mr Zahid advised them not to feel ashamed in seeking outside help and at the same time, never stop trying their best to continue to improve their living standards.
For all the Zakat contributors, this is what Mr Zahid has to say: "Thank you very much. I always say that no matter how big or small your contribution is, it will have a big impact on those like me."
Mr Zahid falls in one of the categories of 8 asnaf who have rights over Zakat – asnaf miskin.
Asnaf Miskin refers to one who has insufficient means of livelihood to meet his or her basic needs and the Zakat disbursement includes monthly financial assistance, special assistance during Ramadan, and supportive programme grants.
For more information on Zakat
Need assistance from Zakat?
Visit any of the Social Development Mosques listed here.
Due for your Zakat payment?
Click the button below to make payment online.