Every month, Mdm Rahimah Yeon will use a portion of the Zakat assistance she receives from Muis to cook various dishes. The dishes are then shared with her neighbours and the staffs at the facility where she undergoes her dialysis.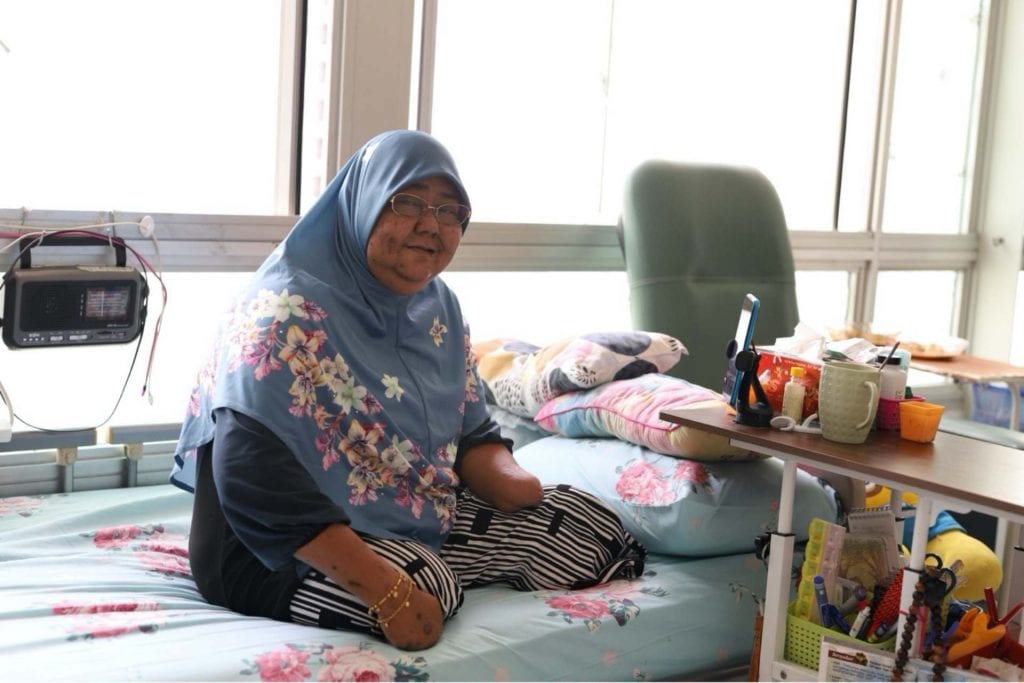 She is one who does not seem to be able to keep still.
One second, she will be at the kitchen cooking, and the next she will be at her table reciting the Quran or watching a religious lecture on her smart phone.
"I love to cook. I also enjoy reading the Quran. After all, we are not able to go to the mosque and attend classes in person because of the COVID-19 situation," said Mdm Rahimah Yeon, a beneficiary of Zakat financial assistance rendered by the Majlis Ugama Islam Singapura (Muis) or the Islamic Religious Council of Singapore.
Although she is active and seems to lead a normal life, Mdm Rahimah is an amputee.
Living with multiple chronic illnesses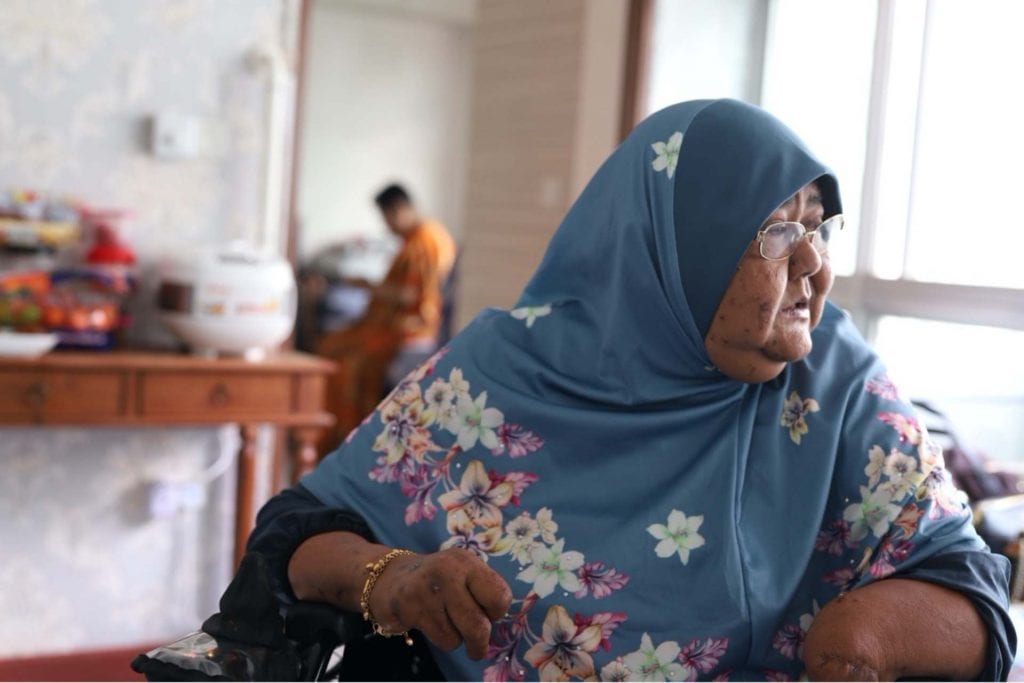 Mdm Rahimah, who is wheelchair-bound, has lived with diabetes since she was 23.
She had to undergo a surgery in 2017 to amputate her left leg in order to save her life.
A year later, her right leg and left hand were also amputated.
Besides diabetes, Mdm Rahimah, 59 years old, also suffers from other chronic illnesses including high cholesterol, high blood pressure, and kidney failure.
In order to keep her illnesses stable and in check, Mdm Rahimah has to be injected with insulin thrice daily, undergo dialysis three times a week at the National Kidney Foundation (NKF), and take multiple medications.
On top of that, she also has to undergo health check-ups at least twice a month at Tan Tock Seng Hospital (TTSH).
Living alone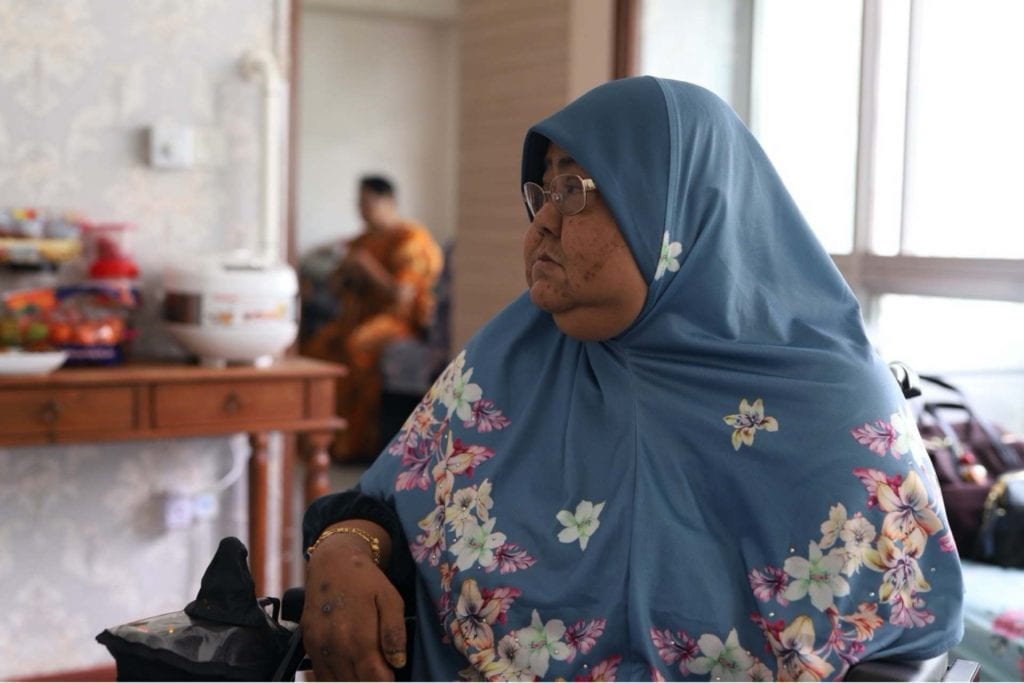 Mdm Rahimah was a mother of two and she used to stay with his eldest son in a two-room flat that she owned.
However, his eldest son, Muhd Hidayat Muhd Yusof passed on at the tender age of 35 in 2019 due to kidney failure. Since then, Mdm Rahimah was left all alone.
She had no contact with her other son after her divorce around 20 years ago.
According to Mdm Rahimah, who considers herself as amicable and chatty, she still has a good relationship with her ex-husband even after their separation.
Mdm Rahimah said that she used to be a saleswoman at a department store for almost 20 years before she had to relinquish her job due to her health issues.
Because she had to live alone, her ex-husband got her a caretaker.
Now, Mdm Rahimah lives with the caretaker and her sister who only recently moved in with her.
Despite the many health challenges that she is facing, Mdm Rahimah tries to look at things positively.
"To be honest, I was extremely sad after my limbs were amputated. However, this was decreed by Allah and I had to accept it," said Mdm Rahimah.
She also added that after the first amputation surgery, she had to keep up her fighting spirit for the sake of her eldest son who was relying on her.
"Back then, after the surgery, he (her eldest son) was still around. So, I told myself to stay strong and keep pushing for him. Now, I have to be strong for myself," said Mdm Rahimah, the youngest of 15 children.
According to her, she likes to be independent. She is now able to move from her bed to her wheelchair by herself. She said that her right arm is still strong.
Gratitude and giving back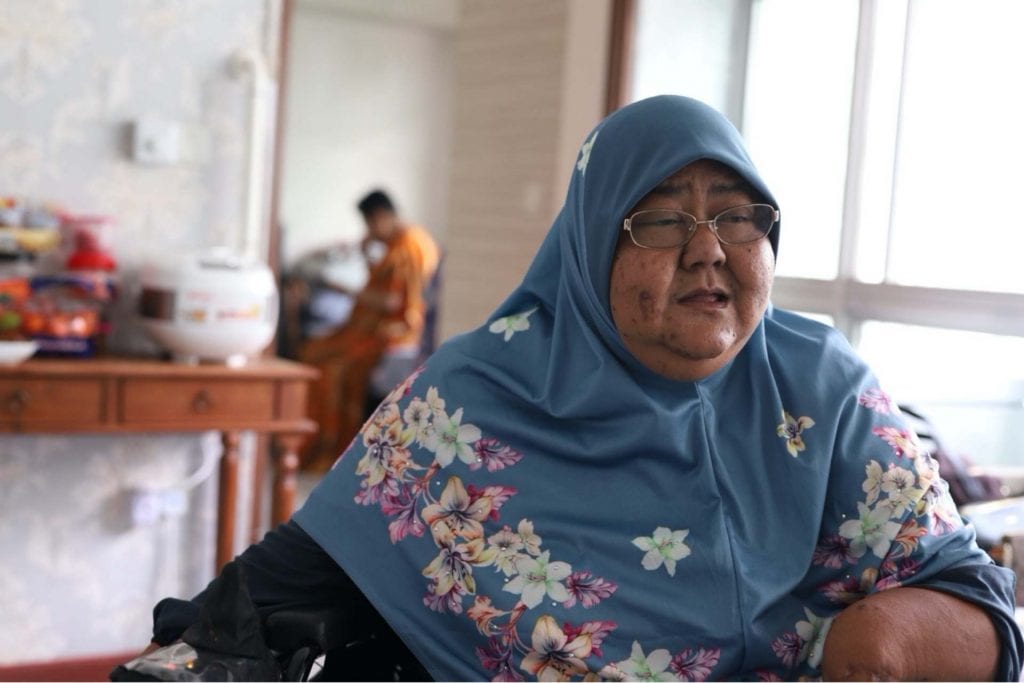 Mdm Rahimah finds solace and joy in cooking her favourite dishes such as Asam Pedas, Penang Laksa, and other noodle dishes.
"I love to cook. I will then give it to my neighbours and to the kids at the ambulance (NKF's staffs). I cook and I like to give it to others. I want them to pray for me," said Mdm Rahimah.
In fact, Mdm Rahimah once made food for around 30 orphans staying at the Darul Ihsan orphanage.
She said that she used a portion of the Zakat money that she receives every month from Muis to cook the food for the orphans.
"I am extremely thankful to Muis for helping me. I am grateful for the help. I know how to manage the Zakat money that I receive every month."
"The Zakat financial assistance is used to pay for my transport to the hospital, the fees for the dialysis, and for food. If there is excess, I will donate around $20 or $30," she said.
Mdm Rahimah originally received the Zakat financial assistance from An-Nur Mosque in Woodlands around ten years ago, before she moved to Fernvale Road. Now, her Zakat financial assistance is managed and rendered by Al-Mawaddah Mosque.
She is receiving $300 from Muis in the form of Zakat financial assistance since February this year until January 2022. She also receives assistance from the Social Services Office (SSO).
"If Muis didn't help me, I wouldn't know how I would survive. I cannot work and look at my physical situation," she added.
The Covid-19 situation that has impacted the social lives of Singaporeans have also impact Mdm Rahimah greatly as she is unable to go to the mosque.
"I used to go to Al-Mawaddah to attend the 'Iqra' Al-Quran' classes once a week."
"Now, because of the Covid-19 situation, I have not been to the mosque for very long. So, I just read the Quran at home using my smart phone," she said with a smile.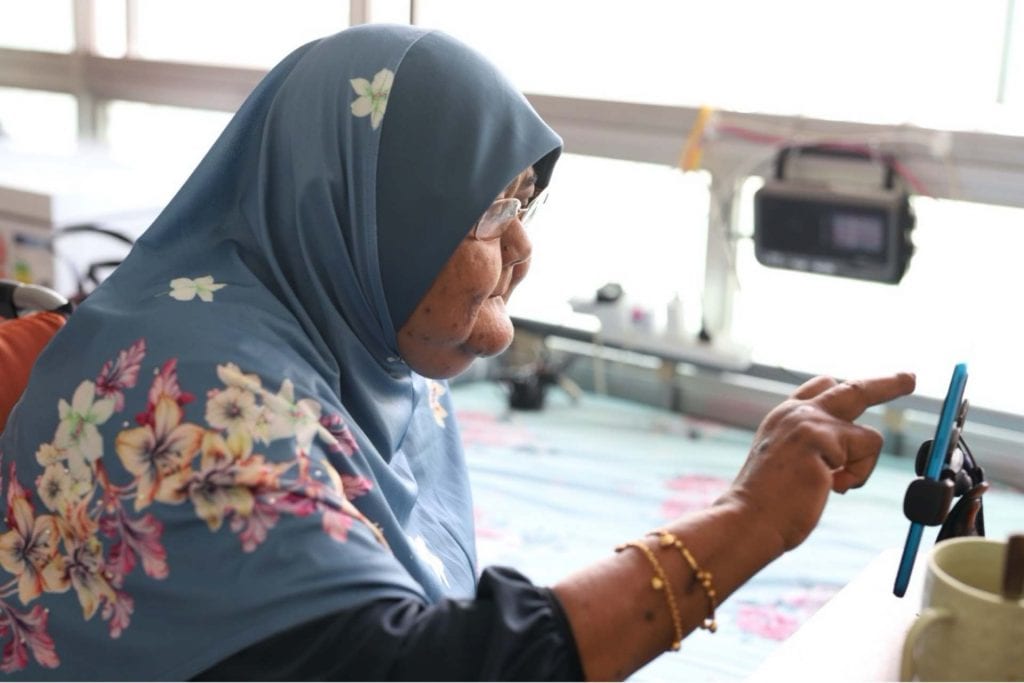 Mdm Rahimah Yeon falls in two of the categories of 8 asnaf who have rights over Zakat – asnaf fakir and miskin.
Asnaf Fakir and Miskin refers to one who has insufficient means of livelihood to meet his or her basic needs and the Zakat disbursement includes monthly financial assistance, special assistance during Ramadan, and supportive programme grants.
For more information on Zakat
Need assistance from Zakat?
Visit any of the Social Development Mosques listed here.
Due for your Zakat payment?
Click the button below to make payment online.